Empowering dialysis users and caregivers
Dialysis world news
Mount Sinai Opens Dialysis and Renal Treatment Center - Newswise (press release)
Add to Favorites
Newswise — (NEW YORK – AUGUST 19) –– The Division of Nephrology of The Mount Sinai Health System has marked the opening of the Mount Sinai Kidney Center at East River Plaza with a formal ribbon cutting, which took place on Wednesday, August 12.
The new facility, located at 117th Street in East Harlem, will provide dialysis treatment with fully modern equipment. Adjacent to the FDR Drive and close to the Robert F. Kennedy Bridge, the Center is easily accessible public transportation, and replaces The Mount Sinai Hospital's dialysis clinic which was located on East 94th Street.
"As a part of the Mount Sinai Health System, the Mount Sinai Kidney Center at East River Plaza has all the support of the system's seven hospitals, physicians and the Icahn School of Medicine at Mount Sinai," explained John Cijiang He, MD, PhD, the Irene and Dr. Arthur M. Fishberg Professor of Medicine and Chief of the Division of Nephrology in the Department of Medicine at the Icahn School of Medicine at Mount Sinai.
The Center is fully integrated with other departments and divisions from throughout the health system, including the Department of Surgery, the Department of Radiology, and the Kidney/Pancreas Transplant Program at Mount Sinai's Recanati/Miller Transplant Institute. "This allows us to provide integrated care and services to our patients," Dr. He added.
"The unit will offer a complete range of services to patients, including peritoneal dialysis, home hemodialysis and in-center hemodialysis," said Vijay Lapsia, MD, Medical Director of the Mount Sinai Kidney Center at East River Plaza and Assistant Professor of Medicine and Nephrology at the Icahn School of Medicine. Additionally, space has been allocated for an interventional suite to perform radiological procedures on-site.
"Patients also benefit from easy parking and ambulette drop off near the unit entrance, sheltered outdoor space, and serene clinical treatment areas with large screen flat panel televisions, new, comfortable dialysis chairs, and improved waiting facilities," Dr. Lapsia added. The unit will also be able to accommodate the needs of stretcher patients and will continue to offer convenient hours. An experienced team of nephrologists, nurses, dietitians and social workers will provide expert care."
The Mount Sinai Kidney Center at East River Plaza's location, in a large commercial center with nearby services for patients and families, was chosen for its convenience for patients based in Manhattan, the other boroughs, or the greater metropolitan area. The East River Plaza is home to numerous restaurants and shops. Patients can shop before and after appointments, as can family members or care takers during dialysis procedures.
"The treatment for chronic kidney disease (CKD) can be time-consuming and exhausting," said Dr. Lapsia. "With the Mount Sinai Kidney Center at East River Plaza's easy to reach site, and the many nearby shops, services and facilities, we hope to make the trips for dialysis less of a burden or an inconvenience."
"Since 1947, when the first hemodialysis in the United States was conducted at Mount Sinai, faculty from the Mount Sinai Division of Nephrology have been leading the care of renal disease patients in the New York City region," said Barbara Murphy, MD, Irene and Dr. Arthur M. Fishberg Professor of Medicine and Chair of the Department of Medicine at the Mount Sinai Health System. "The opening of the new Mount Sinai Kidney Center at East River Plaza represents the next stage for the dialysis program at Mount Sinai, which is the only hospital-operated outpatient dialysis program in Manhattan," said Dr. Murphy, a world-renown transplant nephrologist. In addition, the Mount Sinai Health System remains the largest provider for peritoneal dialysis in New York City.
About the Mount Sinai Health System
The Mount Sinai Health System is an integrated health system committed to providing distinguished care, conducting transformative research, and advancing biomedical education. Structured around seven hospital campuses and a single medical school, the Health System has an extensive ambulatory network and a range of inpatient and outpatient services— from community-based facilities to tertiary and quaternary care.
The System includes approximately 6,100 primary and specialty care physicians; 12 minority-owned free-standing ambulatory surgery centers; more than 140 ambulatory practices throughout the five boroughs of New York City, Westchester, Long Island, and Florida; and 31 affiliated community health centers. Physicians are affiliated with the renowned Icahn School of Medicine at Mount Sinai, which is ranked among the highest in the nation in National Institutes of Health funding per investigator. Seven departments at The Mount Sinai Hospital and one at the New York Eye and Ear Infirmary (NYEE) ranked nationally in the top 25 in the 2015-2016 "Best Hospitals" issue of U.S. News & World Report. Mount Sinai's Kravis Children's Hospital also is ranked in seven out of ten pediatric specialties by U.S. News & World Report.
For more information, visit http://www.mountsinaihealth.org, or find Mount Sinai on Facebook, Twitter and YouTube.
# # #

Comment/Share
Leave a comment...
Momentum Stock in Focus - Rockwell Medical, Inc. (NASDAQ:RMTI) - Enterprise Leader
Second-line Everolimus Safe, Effective for VEGF-refractory Renal Cell Carcinoma - Cancer Therapy Advisor
August 19, 2015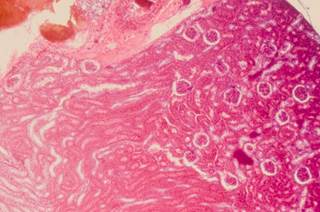 Second-line everolimus is safe and effective for VEGF-refractory patients with metastatic renal cell carcinoma.

Second-line everolimus is safe and effective for VEGF-refractory patients with metastatic renal cell carcinoma (mRCC), a recent study published online ahead of print in the European Journal of Cancer has shown.

For the study, researchers sought to evaluate the efficacy and safety of everolimus in patients with mRCC who failed one or two anti-VEGF therapies, such as pazopanib, sorafenib, sunitinib, and axitinib.

A team of researchers led by Laurence Albiges, MD, Medical Oncology Department at Gustave Roussy in France, pooled data from four prospective, non-interventional studies conducted in Austria, France, Germany, and Greece. In total, 632 patients with mRCC were included, and of those, 493 received second-line everolimus 10 mg/day until disease progression or unacceptable toxicity.

Results showed that the median time to progression was 6.3 months (95% CI: 5.9, 6.8) for the overall population and 6.4 months (95% CI: 5.8, 6.9) for the second-line everolimus population.

Researchers also found that median progression-free survival was 5.5 months (95% CI: 5.0, 6.1) and 5.8 months (95% CI: 5.0, 6.4) for the overall population and second-line everolimus population, respectively.

RELATED: Radio Frequency Ablation May Produce More Favorable Outcomes in Papillary Neoplasms

In regard to safety, the most common adverse events associated with everolimus use were stomatitis, anemia, and asthenia.

The findings ultimately "support everolimus as a standard of care for VEGF-refractory patients with mRCC," the authors concluded.

Reference
Albiges L, Kube U, Eymard J-C, et al. Everolimus for patients with metastatic renal cell carcinoma refractory to anti-VEGF therapy: results of a pooled analysis of non-interventional studies. E J Cancer. 2015. [epub ahead of print]. doi: 10.1016/j.ejca.2015.07.030.
Pediatric Nephrologist Martin Bitzan: global health embraces clinical specialties - McGill University Health Center
World Humanitarian Day, August 19, commemorates people who lost their lives in humanitarian service and celebrates the spirit that inspires humanitarian work around the world. Every year, McGill University Health Centre (MUHC) physicians, residents and nurses travel to countries such as Haiti, Rwanda, Mozambique and Uruguay to take part in on-site clinical work, capacity building, and education, research and exchange programs. Besides bringing much-needed support to regions with limited resources, these partnerships help our staff gain valuable experience and contribute to enhance the international profile of the MUHC. Below are examples of our doctors' volunteer work. 
By the end of 2015, Pediatric Nephrologist Dr. Martin Bitzan will have travelled to Rwanda, Ethiopia, China and possibly India. Far from touristic, the trips are part of the physician's mission to increase expertise and build capacity in pediatric nephrology in countries with limited resources.
"Even as a child in Germany, I thought of working with less advantaged communities, and this was basically why I went into Medicine," says Dr. Bitzan, who is director of the Pediatric Nephrology Division at the Montreal Children's Hospital of the McGill University Health Centre (MCH-MUHC). "But I was only able to pursue this goal after having settled in Canada."
His first opportunity arose in 2008, through the International Society of Nephrology's Sister Renal Center Program. The ISN program linked the MCH Division of Pediatric Nephrology and the St. John's Medical College Hospital in Bangalore, India.
"I visited hospitals, saw patients and discussed with local colleagues. I could see where the needs were," he says. "It's different than just flying in for a conference."
Dr. Bitzan believes global health programs should embrace specialized areas.
"Of course, there are the primary concerns such as high mortality rates, infectious diseases, malnutrition, and these are being addressed. But what happens when a child who survives severe malaria develops temporary kidney disease and dies? Why shouldn't this child have the same right to receive dialysis and survive as our children do?"
Benefits to MCH patients 
For countries in need, partnerships are an opportunity to build capacity and to avoid brain-drain by offering qualified local doctors specialized medical training. They also involve bringing foreign doctors to train in western academic hospitals. Rebecca Thomas is a doctor from Jamaica who is completing a two-year fellowship tailored to her needs at the MCH's Department of Nephrology.
"Children in Quebec and in Montreal benefit from Dr. Thomas's care and, as an added bonus, we have extra time to better do our job."
Dr. Bitzan is already planning his next trip to Rwanda. He'll work on the implementation of a continuing medical education program for doctors and nurses, a partnership between the Centre Hospitalier Universitaire de Kigali (CHUK) and the MCH Global Child Health Program. The collaboration, partially funded by the MCH Foundation, will be the first of its kind in Rwanda.
Low levels of lactobacillus in the vagina associated with premature births
"Mothers at risk of giving premature birth had low levels of lactobacillus bacteria, a microbe that is widely considered important for vaginal and intestinal health. Doctors have not shown a connection between premature births and the bacteria, but the study offers a new angle to approach the issue. Researchers speculate that a different type of bacteria may be taking the place of lactobacillus microbes. Scientists involved in the study are interested in carrying out larger trials with greater sample diversity in order to better determine the risks posed by low levels of this bacteria." And what are the data for women with ESRD? (no one knows)
<< Start < Prev 1 2 3 4

5

6 7 8 9 10 Next > End >>


Page 5 of 2630